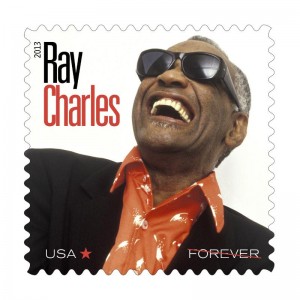 WASHINGTON — On what would have been his 83rd birthday, the "father of soul," Ray Charles, was the latest inductee into the United States Postal Service's Music Icons Forever Stamp Series on Monday, September 23rd.
"Frank Sinatra, himself a more here stamp honoree, once characterized Ray Charles as 'the only true genius in show business,' and certainly, if anyone was a musical genius, it was Ray Charles," said U.S. Postal Service Judicial Officer William Campbell who dedicated the stamp at the Atlanta ceremony.
"Despite being blind and having a young life marked by tragedy, hardship and tremendous challenges, Ray Charles went on to have a remarkable 58-year career playing music that blurred the lines of jazz, gospel, blues and, in later years, country. In doing so, he became the personification of the American Dream," Campbell added.
Born Sept. 23, 1930, in Albany, GA, Ray Charles Robinson was raised in the small town of Greenville, FL, where a local boogie-woogie pianist gave him his first piano lessons. At the age of five, Charles began to go blind. His right eye was surgically removed. While he  received lessons in classical piano and clarinet, Charles taught himself to play saxophone while continuing to listen to a mix of jazz, blues and country music.
Read the rest of Ray Charles immortalized on U.S. postal stamp
Posted in
Uncategorized
by .