A version of this article ran in the Austin Weekly News.
By La Risa Lynch
Echoing Dr. Martin Luther King's principal of economic justice, a group of North Lawndale residents held a Jan. 15th rally on the corner of Kildare and Roosevelt Road to stress the economic impact building the Obama presidential library will have in that West Side community.
"Martin Luther King had a dream and … that dream was that economic disadvantage neighborhoods would rise up and become those places where people could live out their American dream," said Dennis Deer, of New Covenant Community Development Corp. "We believe Barack Obama has that same dream."
Deer believes that's why a prerequisite for the library's location be in underserved communities was part of the bidding process. Deer noted the president wants the site to  benefit not just residents but entire communities.
Paul Norrington, co-founder of North Lawndale Presidential Library committee (NLPLC), agreed. Placing the library and museum in North Lawndale has a regional impact unlike it south side competitor, he said. Communities, he added, like Little Village and western suburbs such as Cicero, Oak Park, Maywood and Berwyn could see an economic boost from the library and museum's West Side location. He urged surrounding communities and west suburban public officials to back the North Lawndale site.
"Here in North Lawndale the city and suburbs would benefit," he said. "Black and Hispanic communities would benefit. [Obama] can still benefit the wide demographics of America that he has always fought to benefit not just one city or one people."
Cook County Commission Robert Steele (2nd) agreed. He said surrounding communities like Oak Park can see a boost in tourism from the library's North Lawndale location. Those tourism dollars can attract restaurants and retail shops, he said.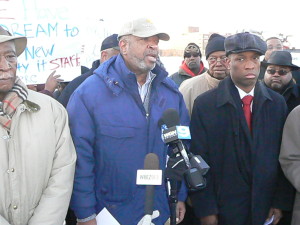 North Lawndale needs reinvestments, added Ald. Jason Ervin (28th). Most of the area has remained underdeveloped since the riots following King's death in 1968. He said the proposed library site once was a "big mound of rubble and garbage."
"There are a lot of opportunities here," he said of the temporary construction jobs and more permanent jobs from retail businesses the library could bring. Ervin was the only West Side alderman at the rally. When asked about the lack of engagement from his other aldermanic colleagues, Ervin said he could only speak for himself.
"I am in full support of the library even though it is not in my ward," he said.
Also supporting the North Lawndale site is Cook County Commissioner Richard Boykin (1st). He was not at the rally, but when reached by phone to gauge his position, Boykin said he was "on board 120 percent."
Boykin said the West Side "desperately needs an economic boost." He said the library will attract jobs, economic development and more traffic to restaurants and local businesses.
"I would urge the president to pick the site," Boykin said, noting that King lived in North Lawndale when he brought his fight for fair housing to Chicago in 1966. "So there is historical significance to Lawndale."
North Lawndale partnered with the University of Illinois Chicago to put forth its bids. It is the only community-based bid among the four sites selected as finalists for the library and museum. Other contenders include Columbia University in New York, the University of Hawaii in Honolulu and the University of Chicago on the city's South Side. President Obama and first lady Michele Obama would make the final decision in March.
But event organizers said the North Lawndale site is shovel-ready and controversy-free unlike U of C's proposal. Their bid proposes using 20 acres of park land either in Jackson Park or Washington Park for the library and museum. The use of park land drew scores to two town hall meetings last week – some favoring the idea while others adamantly opposing it.
"We don't want people to forget that we are here. We have a 23 acre site. There are no issues of site control," said Valerie Leonard, co-founder of the Lawndale Alliance. "What the other bid is trying to get in 22 acres, we already have it here…. So we say build it in North Lawndale."
Potential litigation over the use of park land "threatens to gridlock this once in a life time opportunity for the city," said Marcus Betts, an NLPLC member. The North Lawndale site, he added, "is the only bid that adds park land and creates a technology and transportation corridor that would be essential to the future vision of the city's growth that is not just focused on the lakefront."
Mayor Rahm Emanuel has committed support for both bids. But Leonard urged the mayor to call a public hearing just as he did for U of C's proposal. Leonard said a public hearing is necessary for the land, which is already city-owned, to be conveyed to the Barack Obama Foundation. The Foundation oversees the selection process. Leonard said the mayor has already provided a letter of support for the North Lawndale site.
"We want to make sure that our bid is on par," she noted. "We don't want to have any one institution that he's supporting to have on leg up over the other …."
Betts and Ervin allayed concerns expressed by the Obama Foundation about leadership changes at UIC. The college recently got both a new president and chancellor. But Ervin said the new leadership in 100 percent on board with this project. Betts added that both the new chancellor and president have reached out to the Foundation to communicate their support for the bid.